Louis Calabro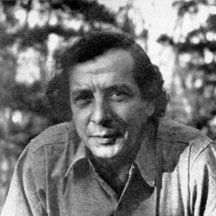 November 1, 1927 (Brooklyn, NY) - October 21, 1991 (Bennington, VT)
From a large Italian family, Louis Calabro moved into an orphanage at the age of 9, arriving with his favorite possession: a broken drumstick. Having never finished high school, after servingin as a paratrooper in World War II, he attended The Juilliard School, graduating in 1952 in composition and percussion. A Guggenheim Fellowship won in 1953 took him to Italy for six months. He came to Bennington in 1955 and stayed until his death. While there, he won a second Guggenheim, three National Endowment of the Arts grants, and received the Vermont Governor's Award for Excellence in the Arts in 1983. He was an unusual example of someone from an underprivileged background who accomplished a great deal through strength of will and determination. 
It was Lou's belief that musicians should make music together on a daily basis. Around him, he spotted active musicians and created music for them to play. His vast catalogue of works includes pieces for solo instruments, ensembles of all sorts, bands, orchestras, and vast oratorios for all local forces. Mi Lai and Voyage are examples of such. He gathered writers, local music groups, and soloists to perform together in a massive commemoration of these striking events, memorable because of their sheer size, as well as for the quality of the music. 
In 1973, he founded Sage City Symphony, an all-volunteer orchestra dedicated to every type of music, which annually commissions Vermont composers to write symphonic works and whose funds come from money raised entirely locally. Lou was conductor and musical director until his death in 1991.
Lou lived his life to the hilt. He had six children, three of whom are professional musicians. He loved gardening and farming, raised goats and pigs, and made cheese. He read voraciously, particularly in science and physics, and wrote short stories. He loved poker and a good drink, and built his own barn with the help of one of his sons. 
From the SCS Archives